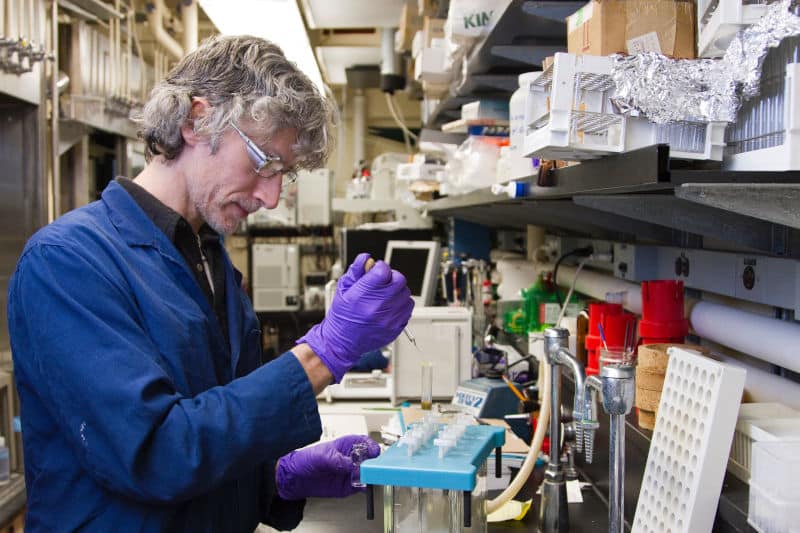 Back to resources Top 5 Alternative Career Paths for Pre-Med Post-Bacc Graduates
Articles
December 24, 2019
Most people enrolling in a pre-med post-bacc program are there to gain admission to medical school. Sometimes, however, the process of earning that post-bacc shows students their interests actually lie outside the physician role. Fortunately, the knowledge, skills and connections you make during a post-bacc program can apply to many other career paths.
As a post-bacc, you'll have developed numerous transferable skills:
Assimilating large volumes of technical information quickly
Applying technical information and research findings in practical situations
Writing, researching and presenting to high professional standards
Experience in clinical settings and laboratories
All these experiences translate to qualifications for a wide variety of exciting roles. Here are a few of the potential options available to you if you complete a post-bacc but decide not to go on to medical school.
Clinical Research Coordinator – $123,860 National Median Salary
Clinical research coordinators help plan, support and document the activities of scientists involved in medical research. Their duties can include:
Preparing and managing budgets for projects
Participating in study subject recruitment
Ensuring all regulatory compliance documentation is completed and submitted to the appropriate authorities
Monitoring progress of studies and gather information for reporting, including adverse event reports, manuals, review board documents and more
Acting as liaisons between research team members and sponsoring organizations
According to O-Net Online, clinical research coordinators had a national median annual salary of $123,860 in 2018. Job growth outlook over the 2018-2028 period is expected to be about average (4-6%).i
Physician Assistant – $108,610 National Median Salary
Finally, some post-bacc graduates decide to move on to a physician assistant (PA) program rather than medical school. Physician assistants play an important role on health care teams of all types, especially in primary care settings. In underserved communities, PAs may act as the main primary care providers, working with physicians only a few days per week.
Their scope of practice tends to be regulated differently in each state, but duties can include everything from taking patient histories to performing medical procedures, such as setting a broken bone or performing vaccinations. In some states, PAs also have prescribing authority for certain classes of medications.
Few occupations are projected to see faster job growth than physician assistants. The BLS reports that national job openings may grow by as much as 31% over the 2018-2028 period due to the rising demand for primary care.ii In 2018, the national median salary for PAs was $108,610.iii
Medical Device Sales – $101,420 National Median Salary
Medical device sales combines clinical and technical knowledge with salesmanship. Complex or implantable clinical devices, such as pacemakers, require medical device salespeople to have a strong understanding of human anatomy and physiology.
Medical device sales representatives will travel frequently, visiting practices and doctors to discuss products, conduct trainings, and perform tests on devices to ensure proper function. In some cases, medical device sales reps may even attend surgical procedures to advise on implantation of a specific device.
O-Net and the U.S. Bureau of Labor Statistics (BLS) do not track medical device sales as a discrete profession. The best match for this field is likely to be "sales engineers"—sales professionals who have a high degree of technical knowledge and at least a bachelor's degree.
According to the BLS, job openings for sales engineers at the national level should grow by about 6% over the 2018-2028 periodiv. Median annual salary (independent of commissions or bonuses) was $101,420 nationwide.v
Clinical Data Manager – $87,780 National Median Salary
Clinical data managers handle the storage, security and analysis of data from practices or medical studies. Their duties can include:
Designing and testing databases
Overseeing and directing data entry teams
Monitoring database security to ensure storage complies with HIPAA and other regulations, and to protect from leaks or attacks
Contributing to regulatory documentation
Processing and analyzing data to identify trends or answer clinical questions
O-Net Online reports that, as members of the overall "statisticians" category, clinical data coordinators had a national median annual salary of $87,780 in 2018.vi National job growth over the 2018-2028 period is expected to be much faster than average (11% or higher).vii If you have any IT or database skills coming into your post-bacc, this type of clinical role could be right for you.
Technical Writer – $71,850 National Median Salary
If you have a knack for clear, concise technical writing, you may be able to capitalize on the expertise and clinical experience from your post-bacc program to pursue a career as a technical writer for a medical device or other health care-related corporation. These writers produce manuals, journal articles, assembly instructions, FAQ pages, video scripts and other documentation to support the proper use of medical equipment. In some cases, technical writers may also assist researchers with grant writing.
According to the BLS, nationwide job openings for technical writers was expected to grow by 8% over the 2018-2028 period. The national median annual salary for technical writers was $71,850 as of May 2018.viii
Clinical Laboratory Technologist – $52,230
Clinical lab technologists perform tests on tissue and other samples ordered by physicians. Technologists usually hold a bachelor's degree plus some post-graduate training, such as a post-bacc certificate. They will analyze samples and record findings, operate medical equipment, maintain records of tests performed and complete other compliance documentation, and discuss test results with practitioners. Technologists may also manage teams of clinical laboratory technicians, who carry out basic laboratory procedures but who do not necessarily conduct analysis.
According to the BLS, nationwide job openings for clinical lab technologists should grow by 11% over the 2018-2028 period. The national median salary for clinical lab technologists and technicians (combined) was $52,230 in May 2018.ix
i https://www.onetonline.org/link/summary/11-9121.01
ii https://www.bls.gov/ooh/health care/physician-assistants.htm#tab-6
iii https://www.bls.gov/ooh/health care/physician-assistants.htm#tab-5
iv https://www.bls.gov/ooh/sales/sales-engineers.htm#tab-6
v https://www.bls.gov/ooh/sales/sales-engineers.htm#tab-5
vi https://www.onetonline.org/link/summary/15-2051.02?redir=15-2041.02
vii https://www.onetonline.org/link/summary/15-2051.02?redir=15-2041.02
viii https://www.bls.gov/ooh/media-and-communication/technical-writers.htm
ix https://www.bls.gov/ooh/health care/clinical-laboratory-technologists-and-technicians.htm#tab-5