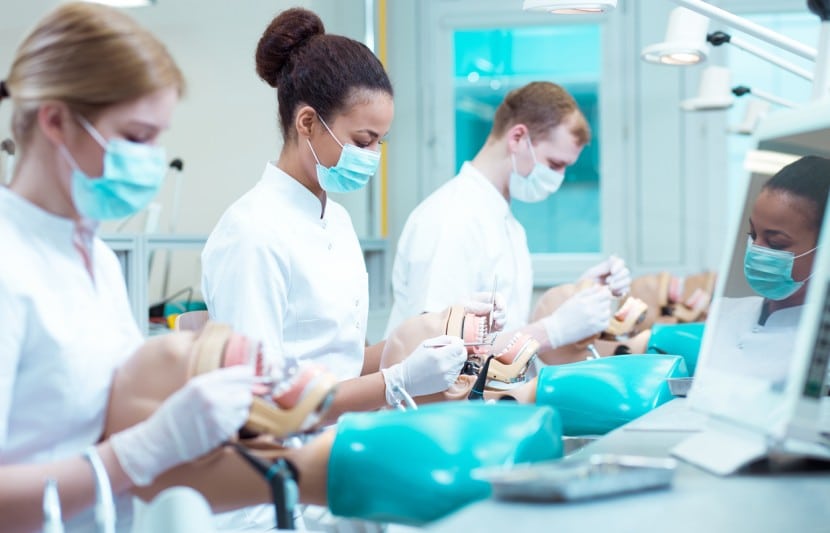 Back to resources Are There Pre-Dental Post-Bacc Programs?
Articles
August 16, 2023
Interested in making a difference in the world of oral healthcare? According to the American Dental Association (ADA), 11,756 students applied to the nation's 67 dental programs in 2021-22. If you want to join them and you are concerned about your GPA or your prerequisites, you may be wondering if there are post-bacc programs tailored to aspiring dental students as well as to aspiring medical students.
The short answer is: yes, there are a limited number of specifically pre-dental post-bacc programs out there. The long answer is that most pre-med post-bacc programs can also help you build your academic credentials to prepare to apply to dental school, especially if they advertise as "pre-health" programs, not just "pre-medical" programs. Here are a few ways they can make that happen.
Improve Your GPA
The ADA reports that the average pre-dental GPA for new dental students was 3.60 in 2021-22 (figure 8). If you are well below that standard, you may want to pursue a pre-medical or pre-dental post-bacc to help raise your grades—particularly in science-related courses. Completing an undergraduate post-bacc certificate can help you achieve a modest boost in your overall or science GPA, which can be enough to improve your record if you're "on the bubble"—that is, if you're only a few tenths of a point below 3.60.
If you have a more serious deficit in your GPA, you may want to consider pursuing a special master's degree program. By acing your classes at the master's level, you'll establish a pattern of improvement in your GPA that can demonstrate to admissions committees that your undergraduate performance wasn't an accurate reflection of your real abilities.
Make Up Prerequisites in a Certificate Program
There's a lot of overlap in the prerequisites for medical school and dental school. If you decided late in your undergraduate career that you were interested in pursuing a health professional pathway, you may just need to take some science classes to fill in the gaps. In that case, a pre-med post-bacc certificate program can be a great option for you.
You'll take courses in biology, chemistry, statistics, physics, and other topics. Even though you'll likely be studying alongside future MD applicants, these courses are just as important to future dentists, too.
Cover Graduate-Level Content in a Special Master's Program
If you have the undergraduate prerequisites but you don't have the grades, re-taking them may not be the best bet. Instead, consider a special master's program. Pre-med or pre-health special master's degrees generally cover courses taken during the first year of medical school—and again, there's a lot of overlap between the health science you study in an MD program and the health science you study in a DDS program.
Courses such as pathology, anatomy and physiology, and microbiology are all common special master's degree topics—and all are key parts of a dentist's educational foundation. By mastering these courses at a graduate level, you'll show dental school admissions committees that you have what it takes to handle tough courses.
Potential Drawbacks to Consider
While pursuing a pre-medical post-bacc program can help you build the academic qualifications you need to improve your dental school application, you'll want to find out whether other types of support are also available. This can include:
Opportunities for dentistry-specific extracurricular activities, such as shadowing and clinical experience
Advisors who understand dental school admissions
Linkage opportunities with dental schools as well as medical schools
Preparation for the Dental Admissions Test (DAT)—many pre-med post-bacc programs may only focus on the Medical College Admissions Test (MCAT)
If you are more worried about the "extracurricular" side of your application, you may find that a pre-health or pre-med program may not always offer the support you need. In that case, applying to one of the specific pre-dental post-bacc programs could be right for you.
A Sample of Pre-Dental Post-Bacc Programs in the US
There are about 300 pre-medical post-bacc programs in the United States, and many of them claim to support students pursuing other health professions pathways. If you want a specifically pre-dental program, however, you will have fewer options. Here are a few post-bacc programs focused specifically on developing future dentists:
Start Looking for a Post-Bacc Program Today
When it comes to a pre-dental post-bacc program, you may have more options than you think. Start browsing our database for programs to see which ones may support your goals!