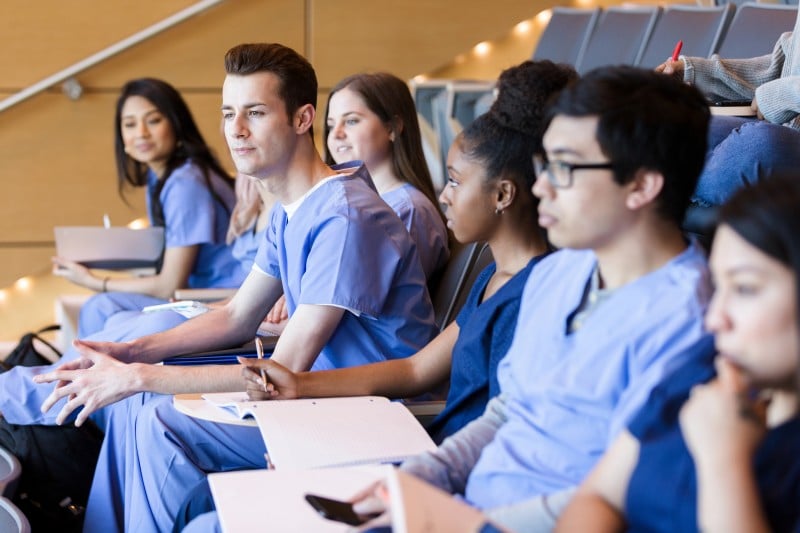 Back to resources What Is the "Fauci Effect," and How Does It Impact My Medical School Plans?
Articles
November 26, 2021
Since March 2020, we've heard the word "unprecedented" an awful lot. From "these are unprecedented times," to "these are unprecedented weather conditions," we're experiencing a lot of things we never anticipated happening in our lifetimes.
Something else that's unprecedented? The rise in applicants to medical schools. According to the Association of American Medical Colleges (AAMC), there was an 18% rise in the number of people who applied to medical school during the 2020-2021 cycle. Most years, the AAMC says, applications grow by about 3%.1 Applications to public health programs are up, too—STAT News reports a 23% application growth rate between 2019-2020.2
Media outlets are referring to this boom in enthusiasm for medical careers as the "Fauci effect," after Dr. Anthony Fauci, the director of the National Institute of Allergy and Infectious Diseases. Fauci has been the face of the U.S. coronavirus response since the start of the pandemic. His dedication to public health—along with the heroism of doctors everywhere during the pandemic—appears to have inspired a new generation of students to pursue medicine. However, a closer look reveals there's a little more to it than that.
This article looks at the multiple factors behind the Fauci effect and explains what it could mean for you and your plans to pursue medical school.
More Than One Reason for the Rise in Applicants
It probably doesn't surprise you to learn that the number of medical school applications probably didn't skyrocket just because of the example of one doctor—not everyone cramming for the MCAT right now owns a Fauci bobblehead toy. Other factors may include a more generalized outpouring of altruism: people see a problem in their community, and they want to be able to help. One CNN report compared the rise in COVID-era medical school applications to the rise in military enlistments after the terror attacks of September 11, 2001.3
There may also be a less pure-hearted motivation behind the rise in medical school applications: in bad economic times, people tend to want to go back to school. As an April 2020 Hechinger Report article put it, "higher education . . . runs in the opposite direction of the economy."4 Students who choose to head back to college during economic downturns often aim to emerge with skills for more in-demand career paths. Training for a future medical career may look, in spite of the cost and investment of time, like a future that's potentially "recession-proof."
More Applications Means More Competition
Now for the bad news: medical schools were already very competitive. Now they're incredibly competitive. That's because the rush of new applicants doesn't translate to a growth in medical school places. Med school capacity is determined by a range of complex factors, which means it can't be scaled up within a few weeks, months, or even years. There are only so many faculty members, so many residency opportunities, and so much classroom space for medical students. Plus, medical schools often need to gain approval from accreditors or other regulatory bodies to grow their classes, and the processes for gaining that approval may have been slowed down due to—you guessed it—the global pandemic we're all living through.
What this heightened competition means is that now more than ever, you need to be at the top of your game if you want to get into medical school, especially if you're looking at a top program.
What Can You Do?
The AAMC suggests that pre-meds applying to medical school right now should both "look carefully" at the schools they're applying to and "cast a broader net" by potentially applying to more schools.5 They also recommend that applicants ensure they're demonstrating a commitment to serve through clinical experience as well as academic achievement.
If you've struggled to gain the clinical experience you need, or if your GPA didn't hit the goals you set for yourself, it may be a good time to consider a post-bacc program. Whether you opt for a certificate or special master's program, completing a post-bacc offers you an opportunity to focus solely on building up your knowledge, skills and experience to make your application the best it can possibly be. You can also benefit from individual advising on your application and overall career path.
While the Fauci effect won't last forever, your career in medicine should. Taking some extra time to ensure you start strong may be just what you need right now.
Find your post-bacc in our database. Browse our post-bacc program rankings or perform a search based on your personal criteria. Get started today!
1 https://www.aamc.org/news-insights/applications-medical-school-are-all-time-high-what-does-mean-applicants-and-schools
2 https://www.statnews.com/2021/03/17/driven-by-pandemic-applicants-flood-public-health-schools/
3 https://edition.cnn.com/2020/12/18/us/fauci-effect-med-school-apps-trnd/index.html
4 https://hechingerreport.org/how-the-2008-great-recession-affected-higher-education-will-history-repeat/
5 https://www.ama-assn.org/residents-students/preparing-medical-school/medical-school-applications-what-means-premeds