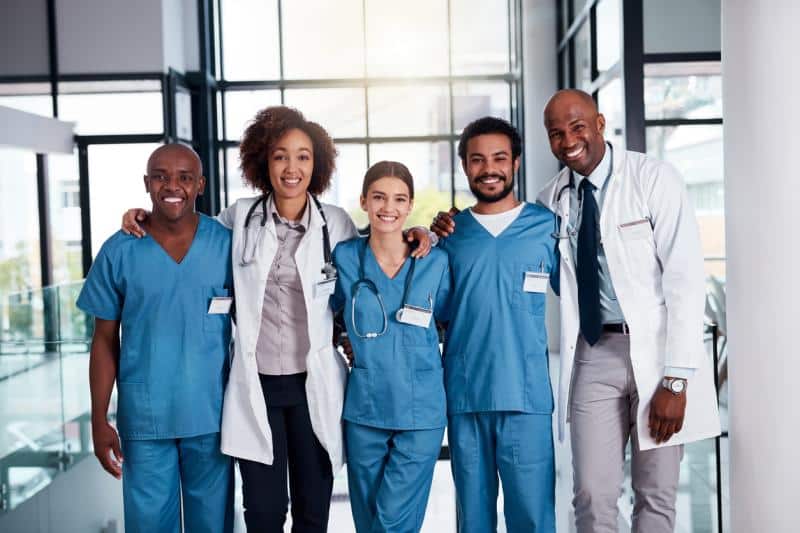 Back to resources Post-Bacc Programs and Health Workforce Diversity
Articles
August 3, 2020
The Black Lives Matter movement has brought issues of racial injustice to the attention of American society in a way not seen since the Civil Rights movement a generation ago. In fact, this spring and summer's protests may represent the largest movement in U.S. history, with as many as 26 million people participating in at least one demonstration. While protests have centered around racism in policing and the criminal justice system, citizens and policymakers alike are beginning to have serious discussions about the impact of racism on other factors, from job opportunity to education to healthcare.
Medical Schools Are Not Representative of the U.S.
Medical school student bodies in the U.S. are overwhelmingly white spaces. According to the most recent statistics from the American Association of Medical Colleges, there were 92,758 medical students enrolled in classes during the first semester of the 2019-2020 academic year. Of those students, 49.8% were white, 22.4% were Asian, 7.3% were Black or African American, and 6.5% were Latino or Hispanic. According to the U.S. Census Bureau, Black or African American and Latino people accounted for an estimated 13.4% and 18.5% of the population, respectively, as of 2019. They and other minorities, particularly Native Americans and Native Hawaiians, are underrepresented in medical education.
Healthcare Disparities Can Cause Suffering and Death
Combined with systemic and structural racism, underrepresentation of people of color (POC) among practitioners can have real health consequences for millions of people. Healthcare disparities due to race can increase the prevalence of disease among certain populations and decrease access to quality care. According to the Kaiser Family Foundation, POC are:
More likely than white people to avoid or delay healthcare due to cost.
More likely to report having asthma, heart disease and diabetes than white people.
Less likely to have access to health insurance than white people.
Black and African Americans in particular face disparities in maternal care: a recent analysis of 2018 data on maternal deaths (the most recent year for which statistics were available) found that Black women were 2.5 times more likely to die in childbirth than white women. Racial and ethnic disparities have also been thrown into sharp relief by the coronavirus pandemic: new data reported in the New York Times reveals that Latino and Black people are three times more likely to be infected with the virus and twice as likely to die from it.
Pre-Med Post-Bacc Programs with Diversity Initiatives
Recruiting more medical students from under-represented minority (URM) groups is one way to help reduce the impact of healthcare disparities. There are numerous pre-medical post-baccalaureate programs which make an effort to help URM students gain admission to and succeed in medical school. Of the 267 post-bacc programs listed on the AAMC's website, 115 (43%) indicate they focus on URM students. Here are a few examples:
University of Kansas Medical Center Med Path – This post-bacc is for students from URM backgrounds who hold a bachelor's degree and who have not been successfully admitted to the University of Kansas Medical School on the first application. In addition to taking courses to improve GPA, the Med Path program includes mentoring, research and clinical experience, team building and more.
Ponce Health Sciences University M.S. in Medical Science – PHSU's MSMS program focuses on helping students without a direct path to medical school prepare to perform at a high level in the medical school environment. The MSMS requires applicants to be bilingual in English and Spanish. Currently, 90% of PHSU's students are from Latino backgrounds, and 20% are low-income students.
Students in the MSMS program take the same courses first-year medical students take in order to become acclimated to the pace and rigor of a medical school environment. The MSMS offers graduates preferential admissions consideration for PHSU's MD program. Currently, 77% of MSMS matriculants successfully complete the program, and 100% of the most recent graduating class passed the USMLE Step 1 exam, compared to the 95% national pass rate.
Wayne University School of Medicine Post-Baccalaureate Program – This program is aimed at URM and low-income students in Michigan who hold a bachelor's degree and want to improve their GPA in preparation for medical school admissions. Students successful in gaining admission to the program pay no tuition and receive a stipend to cover living costs during their post-bacc year. In addition to coursework, students complete clinical experience in urban Detroit healthcare facilities.
Ohio State University Med Path – OSU's post-bacc program is aimed at increasing the number of URM students in medical schools. This one-year program combines rigorous coursework with mentoring, tutoring, and experiential learning. Graduates of the program receive preferential consideration for admission to OSU's medical school.
Oregon Health and Science University Wy'East Post-Baccalaureate Program – OHSU's Wy'East post-bacc is the only program of its kind in the U.S. for Native American pre-med students. The post-bacc is open to students who are tribal citizens or descendants of Native American or Native Alaskan nations. Successfully admitted students pay no tuition or enrollment fee and receive a partial living stipend for their year in the program. The program combines coursework with MCAT preparation, research activities, clinical experience and content focused on healthcare disparities.