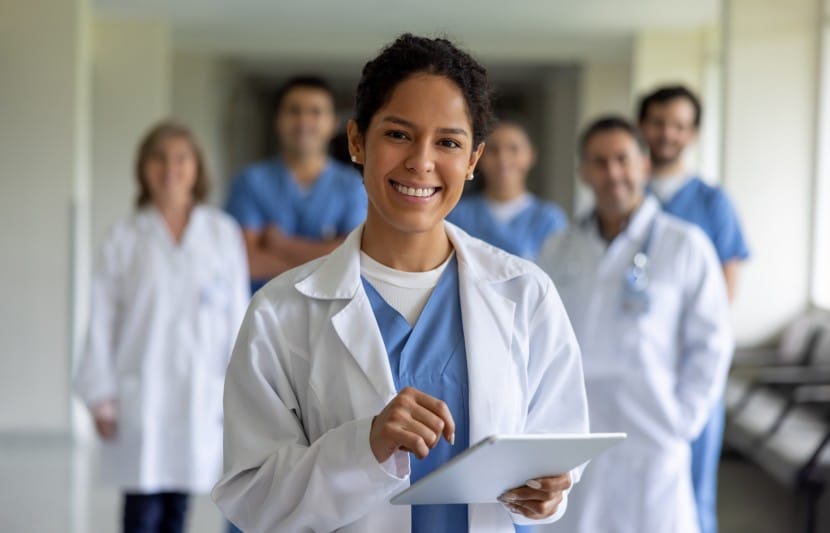 Back to resources Going from RN to MD: How a Post-Bacc Can Help
Articles
August 10, 2022
It makes sense that nurses may want to make a mid-career switch to medical school. Most nurses work alongside doctors every single day. While most nurses love their role and choose to advance within it, some may see what doctors do as more aligned with their interests.
Making the switch from being a nurse to being a doctor isn't easy or straightforward, however. This article discusses some points to consider on your path from RN to MD. It also explains how completing a pre-med post-baccalaureate program (post-bacc) can help some nurses on their journeys.
You'll Need a Bachelor's Degree
First, it goes without saying that you will need to have completed a bachelor's degree to apply to medical school. While the American Association of Colleges of Nursing (AACN) reports that the number of working RNs with a bachelor's or higher hit an all-time peak of 65.2 per cent in 2020, it's still possible for nurses to enter the profession via an associate degree program. If this applies to you, it's time to level up to your Bachelor of Science in Nursing (BSN).
There are a wide range of RN to BSN programs out there for you. They vary in duration from 12 to 20 months, depending on the number of credits you can transfer. Many are online or part-online, making it possible for you to continue working while you study. Your current employer may also offer tuition reimbursement or other benefits for a BSN completion program—check with them before you enroll with a school.
You'll Need Current Prerequisites
If you already have a bachelor's degree, you completed most of the prerequisites medical schools want to see from applicants. These include:
Biology
Chemistry
Physics
Mathematics (especially statistics)
Other prerequisites might include biochemistry, English language and composition, and an introductory psychology course. Your science classes will need to have included a lab component.
Where you may run into issues is with the age of your degree. If you graduated more than 10 years ago (or even sometimes as recently as five years ago), medical schools may require you to re-take the prerequisite courses listed above. This is exactly the kind of situation post-bacc certificate programs are made for. In these programs, which generally last one year, you take the main prerequisite courses and usually at least one medical school-relevant elective, such as genetics.
In addition to helping you bring your prerequisites up to date, a post-bacc certificate program will almost always include one major additional draw: MCAT prep.
You'll Need to Take the MCAT
The Medical College Admissions Test (MCAT) is a major commitment, even for nurses like you who have survived the NCLEX-RN. While there are some areas of overlap between nursing and medicine, there's a lot that's different. (You probably don't need us to tell you that doctors look at things from another angle compared to nurses.) Preparing for the MCAT is a big job, and if you are tyring to do it on your own, it can be a lonely one.
Completing a post-bacc program as part of your career change plan can help with this. Virtually every structured post-bacc program out there, whether it's an undergraduate certificate or a special master's program, includes help with preparing for the MCAT. This can include discounts on test prep materials or direct coaching from post-bacc staff included as part of the program. You'll also meet classmates who may be willing to help you study! Having access to these kinds of resource can be an amazing help in preparing you to do your best.
You'll Need to Apply
According to the American Association of Medical Colleges (AAMC), pre-meds applied to an average of 18 schools during the 2021-22 admissions cycle. Making the primary application is relatively straightforward, thanks to the centralized AMCAS service most medical schools in the U.S. use. Making secondary applications takes more consideration—you will need to explain to each school in detail why you chose it and why you think you'd be a good fit for their program.
This is where completing a post-bacc can come in handy again. Choosing a post-bacc program that provides applicant advising can prepare you to put your best foot forward during this process. Many post-baccs offer help with:
Defining your list of schools to apply to
Revising your essays and personal statements for secondary applications
Preparing for medical school interviews
Post-bacc programs with linkages may be even more help. If you know you're interested in specific medical schools, look to see if they have linkages with any post-bacc programs. Linked post-bacc programs offer graduates who meet performance standards preferential consideration for admission to the medical school they are linked to. Usually this means that if you hit the medical school's GPA and MCAT targets during the post-bacc, they'll automatically ask you to come interview. However, this can vary, so make sure you understand the conditions of a linkage before you enroll in a post-bacc.
Ready to Go from RN to MD? Find Your Post-Bacc Program!
Get started on your journey from nurse to physician: search our post-bacc program rankings today!