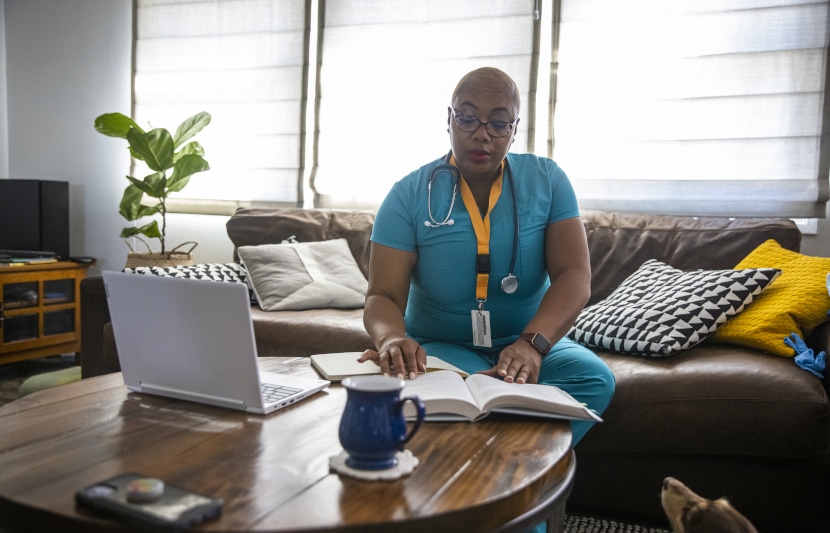 Back to resources What to Look for in a Part-Time Post-Bacc
Articles
February 10, 2023
Pre-medical post-bacc programs have always been intended for non-traditional students. Since they first emerged to meet the needs of military veterans returning from WWII, post-baccs have helped a small but significant number of talented individuals achieve their goal of becoming physicians.
Today's non-traditional students have similar goals, but different needs. Many students need to work to support themselves or care for family members (or both). Taking a year or two off to complete a post-bacc program may simply not be possible for them. Fortunately, there are part-time post-bacc programs. While balancing work, family, and an academically rigorous pre-medical post-bacc program can be difficult, it's far from impossible.
In this article, we list the three main types of part-time post-bacc programs you can find. We hope you find it inspiring as you plan your path to medical school!
Fully On-Campus Programs
The most traditional type of part-time post-bacc involves taking evening and weekend classes on a college or community college campus. This is a good option for people living in urban or suburban areas who can commute to a college around their work schedules, and for those who know they learn best in person.
Some students pursuing pre-med classes on campus will opt to take classes without being part of a formal program. This is known as a do-it-yourself, or DIY, post-bacc program. Taking a post-bacc this way allows for more control over your schedule. However, it can mean spending a longer period of time to complete the courses you need, because they may not be offered every semester.
It is also possible to find formal part-time certificate programs on campus, with a structured completion schedule, advising, and other services that may not be available to you via the DIY route. Search our database to find one near you.
Hybrid-Format Programs
As the name suggests, hybrid-format post-bacc programs allow students to take a blend of online and on-campus courses. Usually, this will involve watching lectures and completing quizzes online, then heading to campus on evenings or weekends to participate in hands-on lab activities.
Hybrid programs offer students who live within driving distance of a college campus more flexibility with their study schedules. This could be right for you if your workdays don't make it possible for you to attend class on campus multiple times a week. In addition to the added convenience, you'll still have access to in-person advising, MCAT coaching, and library facilities.
Fully Online Programs
As we've discussed in a previous article, fully online post-bacc programs are now a reality. These offer complete freedom from having to attend a college campus in person—great for military students on active-duty deployment, people who work unpredictable shifts, people who live in remote areas, or people who frequently travel for work. However, there are two issues to consider: timing of classes, and what your needs are academically.
Timing matters in online learning. It's not actually possible to study when you want all the time. First, online programs usually have weekly assignment deadlines, which means you will have a set amount of work to complete each week. You'll have to make regular time to study every day.
Next, lectures and other class sessions could be live (also known as "synchronous"), or they could be pre-recorded (or "asynchronous") so you can watch them anytime within the week when assignments are due. If you are looking at an online program, especially one offered by a college that isn't in your time zone, make sure you find out whether there are synchronous sessions to be sure you can attend them.
Academically speaking, the majority of online post-bacc programs currently in our database appear to be special master's degree programs. These are aimed at students seeking to address multiple issues with their academic records, including lower overall GPAs. If you had a high GPA and are looking into completing a pre-med post-bacc because you missed a few prerequisites during your undergrad program, a master's degree may not be the best investment of your time—no matter how convenient the online format makes it seem.
Find Your Post-Bacc in Our Database!
Finally, make sure you do your homework before you apply to any pre-med post-bacc program that's advertised as part time. Closely examine the program's web page, double-check details of the course schedule in the college catalog, and reach out to the admissions department to make sure their program is achievable for someone in your situation.
We hope this article has helped you better understand what's available to you as a part-time student. Head to our database to search for online or on-campus part-time pre-med post-bacc programs near you. Good luck!