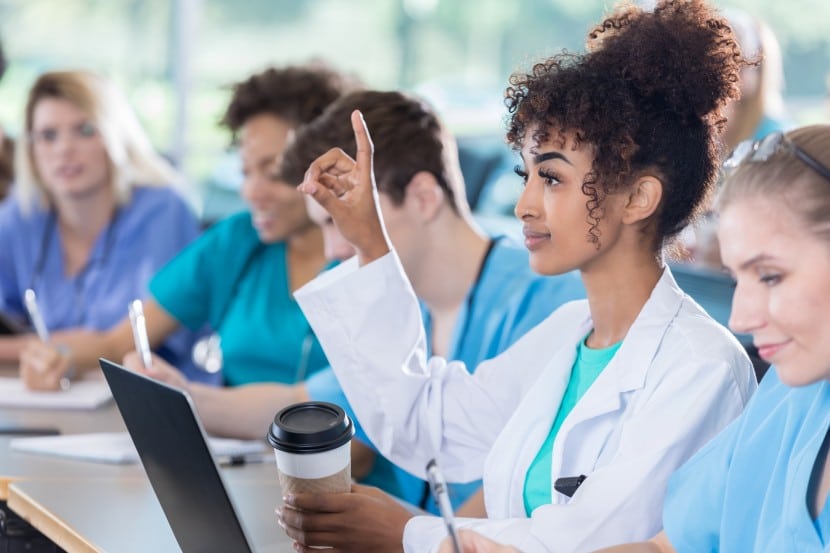 Back to resources Competitive MCAT Scores and Elite MCAT Scores, 2021-2022
Articles
March 15, 2022
The Medical College Admissions Test (MCAT) looms large in the mind of every pre-med student. It's the first hurdle you have to overcome on your journey toward your MD or DO degree. In spite of increasing questions about its utility as a predictor of success in medical school—and criticism of its potential role in exacerbating systemic inequality—the MCAT is still considered a major part of your medical school application by most competitive universities. Unless you're only planning to apply to colleges that have dropped the MCAT as an admissions requirement, you will need to take it to get into medical school in the U.S.
In this article, we walk through the latest data from the American Association of Medical Colleges about the MCAT scores medical school applicants and matriculants earned in 2021-22. Read on to learn what scores are competitive and the schools that had the highest average MCAT scores for accepted students.
Refresher on How the MCAT Is Scored
For most pre-meds, the structure and scoring system for the MCAT are very top-of-mind. However, in case you're not familiar with it, here is a quick rundown of how the MCAT works.
The MCAT is a computer-administered multiple-choice examination with questions divided into four sections:
Biological and Biochemical Foundations of Living Systems
Chemical and Physical Foundations of Biological Systems
Psychological, Social and Biological Foundations of Behavior
Critical Reasoning and Analysis Skills
Each section of the exam is worth 118-132 points. Total scores range from 472-528, meaning you can't score a zero on the MCAT. This is because the MCAT is a scaled exam. Each year's MCAT has a different set of questions, which results in some years being harder or easier than others.
By scaling the scores, the MCAT can offer admissions officers at medical schools a consistent gauge of whether a test-taker's score is below, at, or above average for that year's pool of applicants. Because the average score will always be a 500, medical school admissions committees can know at a glance where your scores rank.
However, MCAT scores for students who applied to medical school tend to be higher than that 500 average—and even higher for those who actually got accepted.
2021-22 AAMC Data: Applicants vs. Matriculants
The AAMC's data looks at two classes of test-takers: applicants, which includes everyone who applied to a medical school, and matriculants, which includes those who were accepted and then enrolled in medical school. 2020 and 2021 were historic years in terms of both the disruption caused by the pandemic and in terms of the overwhelming number of applications to medical school. In spite of that, the average MCAT scores for both applicants and matriculants were high.
The average score for all MCAT test-takers who then applied to a medical school from May 2021 – April 2022 was 505.9. The average score for MCAT test-takers who then enrolled in medical school was 511.9.
This looks like "just" a six-point gap between applicants and matriculants, but on a scaled test, that seemingly small difference is actually very significant. There is a similar gap between the average matriculant MCAT score and the average MCAT score for the most competitive medical schools.
U.S. News Top-Ranked Schools and the MCAT Scores They Accepted
U.S. News and World Report ranks colleges and universities in the U.S., and each year they use the AAMC's applicants and matriculants report to find out what students accepted at their top-ranked medical schools scored on the MCAT.
According to U.S. News, the median MCAT score for the top medical schools in 2021-22 was 517—a full five points higher than all matriculants from the same year. Again, on a scaled exam like the MCAT, five points is very significant.
Here are the top 10 medical schools with the highest median MCAT score for accepted students in 2021-22, according to U.S. News:
New York University Grossman School of Medicine – 522
University of Pennsylvania's Perelman School of Medicine – 522
Columbia University's Vagelos College of Physicians and Surgeons – 521
Johns Hopkins School of Medicine – 521
University of Chicago's Pritzker School of Medicine – 521
Washington University in St. Louis School of Medicine – 521
Harvard Medical School – 520
Mayo Clinic Alix School of Medicine – 520
Northwestern University's Feinberg School of Medicine – 520
Vanderbilt University School of Medicine – 520
Obviously, There's More to It Than the MCAT
The MCAT is an important aspect of your medical school application, but not the only aspect. GPA counts, too. The AAMC report also includes an interesting grid of GPAs and MCAT scores, so you can see exactly what GPA you need to balance a weak MCAT (or vice-versa) and still have a chance of getting accepted to medical school.
According to the grid, applicants who had a GPA over 3.79 on a 4.0 scale needed an MCAT score between 506 and 509 to have a better-than-even chance of getting accepted to medical school (55% of students with those stats got accepted in 2021-22). Applicants who had a GPA between 3.2 and 3.39 needed to score a 517 or higher on the MCAT to have the same odds (again, 55% of students with those numbers were accepted). We've already emphasized that a five- or six-point gap in MCAT scores is large. A nine- to 11-point gap is enormous.
According to the data, a GPA of 3.6 or higher plus an MCAT score of 511 or higher seems to give most applicants a good chance of getting accepted to medical school. Meeting or exceeding both those scores is a challenge. It's possible you could balance them out with an exceptional record in clinical experience or volunteering, but higher is better.
Boosting Your Score
Obviously, there is a whole MCAT test-prep industry out there ready and willing to help you with coaching, practice tests, and curated study guides. But we're not Post-Bacc Program Guide for nothing: a pre-med post-bacc program is another path to higher MCAT numbers (and potentially a higher GPA).
That's because many post-bacc programs include MCAT coaching and support as part of their curriculum or advising offerings, along with other support that can help you become a more competitive medical school applicant. Have a look at our rankings to find one that may fit your needs. Good luck!