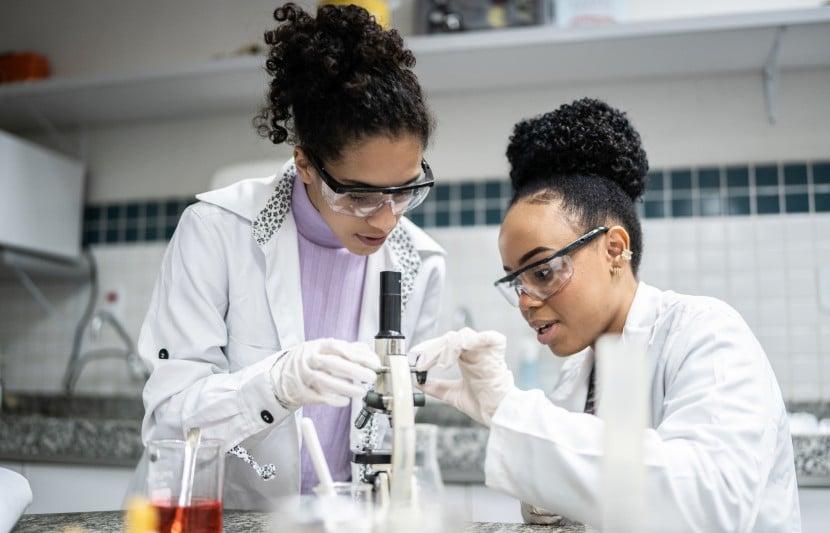 Back to resources Science GPA: What It Is, Why It Matters (And How to Boost It)
Articles
December 12, 2022
As a pre-med (or aspiring pre-med), you know that your undergraduate grade point average (GPA) is critical to your chances of getting into medical school. You probably also know that in addition to a strong total cumulative GPA, you need to have an equally impressive "science GPA", because medicine is by necessity a science-heavy field of study. But do you know which courses count toward your science GPA, and what numbers should you be aiming for to be competitive as a medical school applicant? This article explains the essentials.
How Is Science GPA Calculated?
First, medical schools in the U.S. calculate your science GPA in much the same way that your cumulative GPA is calculated: by adding up the grades in each science and math course you took, then dividing by the total number of classes you took. The result is your average grade in the sciences.
However, not just any science or math-related class counts toward the average—apologies in advance if you're really proud of that computer science class you aced freshman year, but it won't help your science GPA.
Does Any Science Class Count Toward a Science GPA?
The American Association of Medical Colleges (AAMC) publishes a list of acceptable courses that count toward your science GPA, which they call the "BPCM GPA" ("BPCM" stands for "biology, physics, chemistry, and mathematics").
Biology classes include courses related to the study of the human body (anatomy, physiology, neuroscience), life processes (immunology, cell biology, molecular biology), and the study of living things in nature (ecology, botany, zoology).
Chemistry classes cover biochemistry, chemistry, thermodynamics, physical chemistry, and the dreaded organic chemistry.
Physics is typically limited to classes in "pure" physics and astronomy.
Mathematics includes "pure" math classes like calculus or discipline-specific math classes like statistics or biostatistics.
A full list of courses can be found online at the American Medical College Application Service® (AMCAS®) Course Classification Guide.
What Science GPA Do I Have to Reach to Be Competitive?
There's no need to guess what science GPA counts as "good" to U.S. medical schools. The AAMC publishes an annual report about everyone who applied to medical school in a given cycle that includes data about their overall and science GPAs. These lists are broken into "applicants" (anyone who tried to get into a medical school) and "matriculants" (people who were accepted into medical school and started classes).
In 2022-2023, the average GPA details broke out like this:
Applicants: Overall GPA 3.68, science GPA 3.52
Matriculants: Overall GPA 3.75, science GPA 3.68
This doesn't mean you absolutely won't get into medical school if you're a little bit below these numbers. Other factors, such as your MCAT and your clinical experience, will play a role. Plus, the last two years have been unusually competitive due to a large increase in the number of applicants who were inspired by the COVID-19 pandemic to apply to medical school. That increase may be subsiding.
The AAMC also publishes a grid of MCAT and GPA stats that shows in even more detail who got accepted with what scores. So if you have an overall GPA that is a little lower compared to the 2022 matriculant pool—say 3.49—but you scored really well on the MCAT (515 or above), you still could have a better than 50% chance of getting into medical school.
But those are big ifs. What do you do if your science GPA is legitimately weaker than the average applicant (3.3 or lower)?
Are There Ways to Bring My Science GPA Up?
If you still have a year or more left in undergrad, your obvious course of action is to take a few more science or math classes and work hard to nail those classes. If you're graduating soon, however, you need to consider a post-bacc. If your science GPA is less than half a point lower than the numbers above, you should aim to enroll in a post-bacc certificate program for record enhancers.
This type of program allows you to re-take key science and math courses—or take additional courses that qualify as BPCM courses—so you can demonstrate to medical schools that you actually do have the academic ability they're looking for. At most, these programs will boost your GPA by 0.2-0.4 points.
If you have a science GPA that is between 2.7-3.0, you will need to consider a different approach.
What Should I Do if My Science GPA Is Very Low?
Students who demonstrate talent and commitment to medical studies but who struggled with key science and math courses due to personal (or pandemic-related) reasons should consider enrolling in a special master's degree program for pre-health professionals.
Succeeding in a special master's program allows you to show medical school committees evidence of an upward trend in your academic ability, because you are tackling graduate-level course content. In fact, many special master's programs design their curriculum to mirror the first year of courses taken during medical school. If you ace the classes M1s enrolled in medical school are taking, you can make a much more solid case for your admission to a medical school.
Plus, when you graduate, you'll have a STEM-related master's degree—one you can use to pursue other career paths in the unlikely event that you decide becoming an MD is not for you after all.