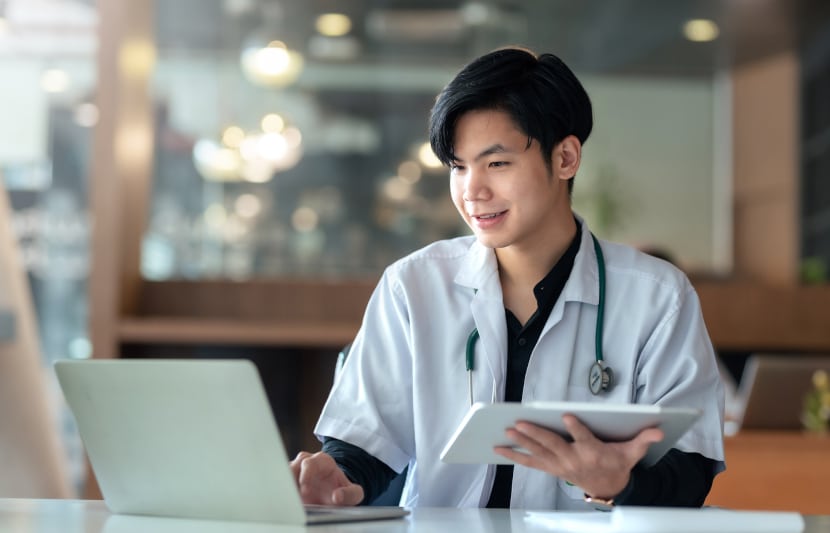 Back to resources DIY Post-Baccs: What Are They, and How Do They Work?
Articles
March 23, 2023
At Post-Bacc Program Guide, we rank and track two main types of pre-medical post-baccalaureate program: post-bacc certificates and special master's degree programs. We believe that these formal programs can offer students many benefits, from advanced coursework to advising and clinical opportunities. 
However, there's also a type of post-bacc some students choose that lies outside these two options: the do-it-yourself or "DIY" post-bacc. While this option isn't suitable for every pre-med who needs a post-bacc—maybe even most of them—there are some students who may benefit. This article looks at how DIY post-baccs work and who can choose them.
What Is a DIY Post-Bacc?
As the name suggests, a DIY post-bacc is one designed by the student, not a formal program. In a DIY post-bacc, students choose individual classes to take (or re-take) in preparation for applying to medical school. Usually, these are science courses the student couldn't complete during undergrad, or courses in which they didn't earn the grade they needed to be accepted by the medical school that interested them most.
How Does a DIY Post-Bacc Work?
In a DIY post-bacc, a student chooses classes and registers to complete them at a local college or university (some students are able to register with community colleges, depending on the courses they need). They take classes one at a time when they are available.
Because the post-bacc is DIY, students must also address any other prep they need to do—such as preparing for the MCAT or finding clinical experience—on their own.
What Are the Advantages of a DIY Post-Bacc?
There are two key advantages to doing a DIY post-bacc: cost and flexibility. Because students enroll in each class individually, they may only have to pay for a handful of courses instead of for a full program that lasts one to two years. If the courses a student needs for their DIY post-bacc are available through a community college, the cost can be even more affordable.
DIY post-baccs can also offer students who need to work or care for family members more control over their schedules. Taking classes as and when they are available means students can plan their studies around their jobs or childcare responsibilities. Formal, on-campus post-baccs are usually for full-time students, and make outside work or caring difficult.
What Are the Disadvantages of a DIY Post-Bacc?
DIY post-baccs allow students to take the classes they need to apply to medical school, and that's about it. Formal post-bacc programs usually offer students additional support for their goals, which can include:
MCAT prep and coaching
Career and medical school application advising
Linkages with medical schools
Extracurriculars like research and clinical experience
A committee letter of recommendation for students who complete the program
In addition, students enrolling in classes for a DIY post-bacc may find themselves at the back of the line when it comes to registering, behind students who are pursuing degrees or formal post-bacc programs. Finally, enrolling in classes outside of a formal program may impact a student's ability to receive federal financial aid for those classes—so they'd either be looking for private loans or paying out of their own pocket.
Who Should Choose a DIY Post-Bacc?
We think most students who need to improve their records or who want to change careers after spending time in the workforce would be better off choosing formal post-bacc programs for the additional support and benefits they provide. However, some students may be able to make a DIY post-bacc work for them.
Generally, these students are:
Students who had a high overall undergraduate GPA
Only have to make up one to three prerequisite classes
Confident they can prepare for the MCAT on their own or using outside materials
Capable of working or otherwise self-financing during their studies
Not interested in pursuing a linkage program
If you think these criteria apply to you, there's no reason why you shouldn't look into completing a DIY post-bacc program. You can read our article about Dana, who completed a DIY post-bacc at Michigan State University before heading to a podiatry program, to get an idea for how that can work. 
If you want the additional support—and the greater chance of qualifying for financial aid—there are plenty of formal post-bacc programs to explore on our website. Thanks to the rapid improvements in online education, you may even find a part-time, blended-format, or fully online post-bacc that accommodates working students. Good luck!